Kern River Camping+ Lake Isabella
What is it about camping that we like so much. There's a lot of funny memes about it which is so true and makes you wonder why you do it. But honestly sometimes it's just nice to live simply, go back to the basics, disconnect from your phones and take in nature. The stories shared around the fire, fingers sticky from the s'mores, your belly warm from the beverages, crickets joining in on the conversation, all while looking up at the stars at night are always the best.
Although it was so hot this time and a camp fire was the last thing we wanted to huddle around…
Every year we go camping with the family. Usually during the summer, trying out different places, usually by the water – because summer. Coordinating everyone's schedules isn't always easy and often times we're scrambling to find a campsite that's actually still available but in the end it always works out.
This year we went to Kern River, actually our third time here, staying at Sandy Flat Campground. We camped here at the end of July which, phew, it was HOT. Initially we weren't worried about the heat since we knew we'd be spending our days by the water. Once we were there though we wished we could pitch our tents in the water.
Here's a little video of our camping trip and if you're considering camping here, scroll all the way to the bottom of this post for a few our tips.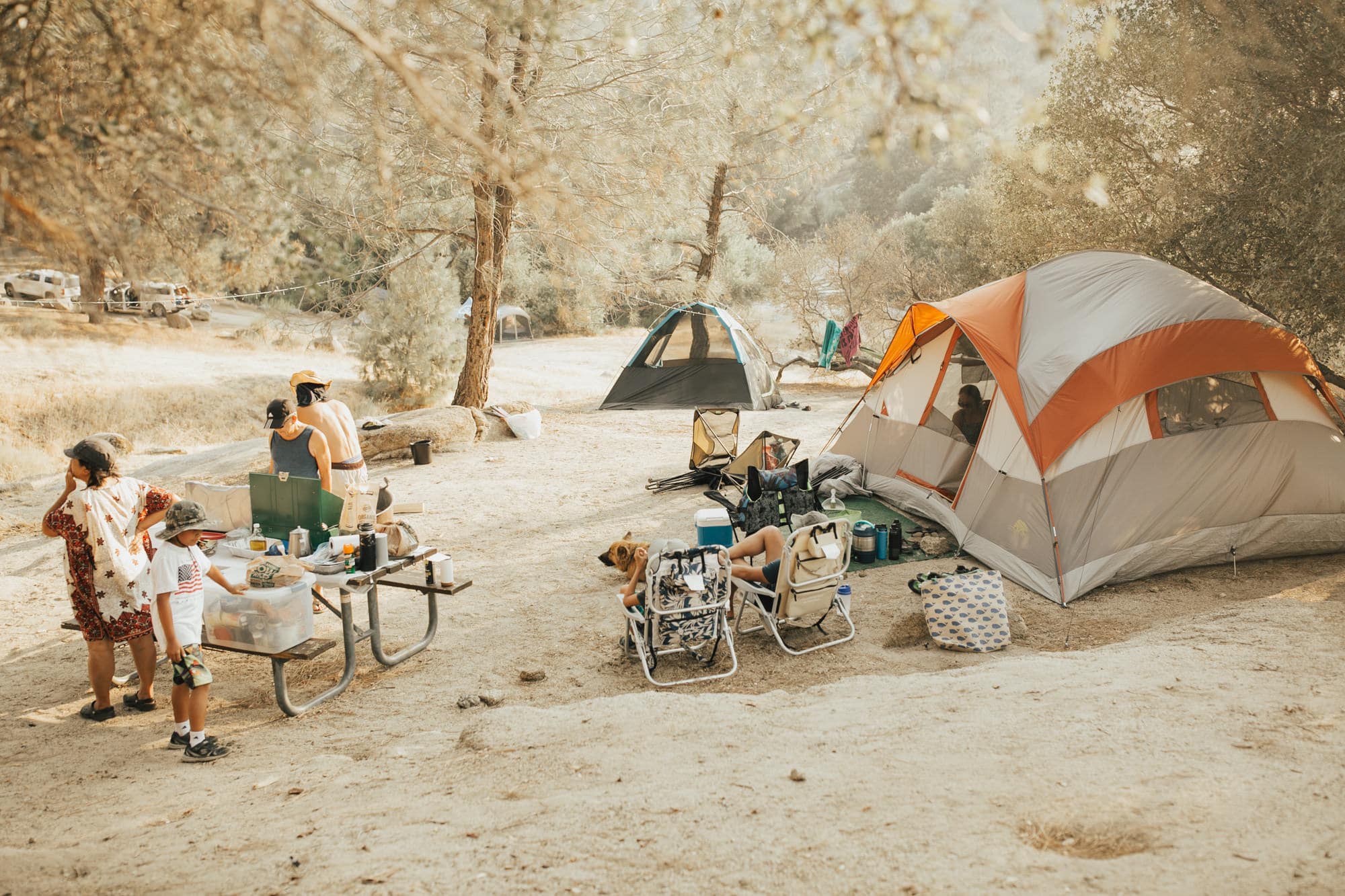 Whenever we're camping just us two plus Lloyd, we keep our meals pretty simple. But when we go with the family, my parents are cookin up breakfast and serve a full Filipino meal with garlic fried rice, fried egg, bangus and tocino. Good stuff.
There is access to Kern River from Sandy Flat which is one of the main reasons we like this campsite.
Camping at Sandy Flat Campground:
Why we like it: This campground is on the smaller side which is nice. There is also access to the river from a few sites, which is so convenient. Our third day there, we just walked on over with our chair, floaties and snacks and hung out by the water all day long. Can't complain.
We stayed on sites #18 and #19. Technically there are only 3 tent sites at this campground and 18 is considered an RV site – but if you're going here with an RV we wouldn't recommend site 18. These two sites are actually kind of off on it's own island, having to walk through site 17 to get to the restrooms and to and from your car. Yeah that includes loading/unloading from your car and if you have an RV your actual site isn't right next to you.
We stayed here at the end of July and it was H-O-T hot. Sleeping at night was kind of miserable. Thankfully during the day the river is right there for you swim in.
Lake Isabella is only about 15 minutes away. So we spent one day there, renting a pontoon and swimming without having to worry about the current like you do at the river.
Heads up: It can get pretty windy during the day. The day we spent at the lake, we came back to find one tent turned over because it wasn't staked in all the way and our fly cover tent was pretty much down and out.
Speaking of, there are a lot of yellow jackets here. Bring bug spray!