Venezia, Italy
Oh Venice (or Venezia if you like being fancy). We were so excited to get here but also kind of sad because we knew this was our last stop. It was the perfect ending to our whole trip though. As soon as we checked in our airbnb and ditched our bags we were off exploring. We were greeted once again with some rain and as we stood under an awning watching the rain sprinkle down we thought, wait what are we doing hiding under here? We're in freaking Venice. So off we went walking in the rain, letting our hair pouf in the humid air and our feet get wet.
To be honest it actually took us a day to realize there were no cars whatsoever and everywhere we walked we didn't have to worry about being a pedestrian. It was sort of a crazy idea once you really thought about that. This place is like no other. You get lost, in the best possible way, walking through long, dark alleys but soon stores begin to become familiar and then you notice the guy who works at the coffee shop walking around in the middle of the town pushing a cart — and that familiarity suddenly makes you feel right at home.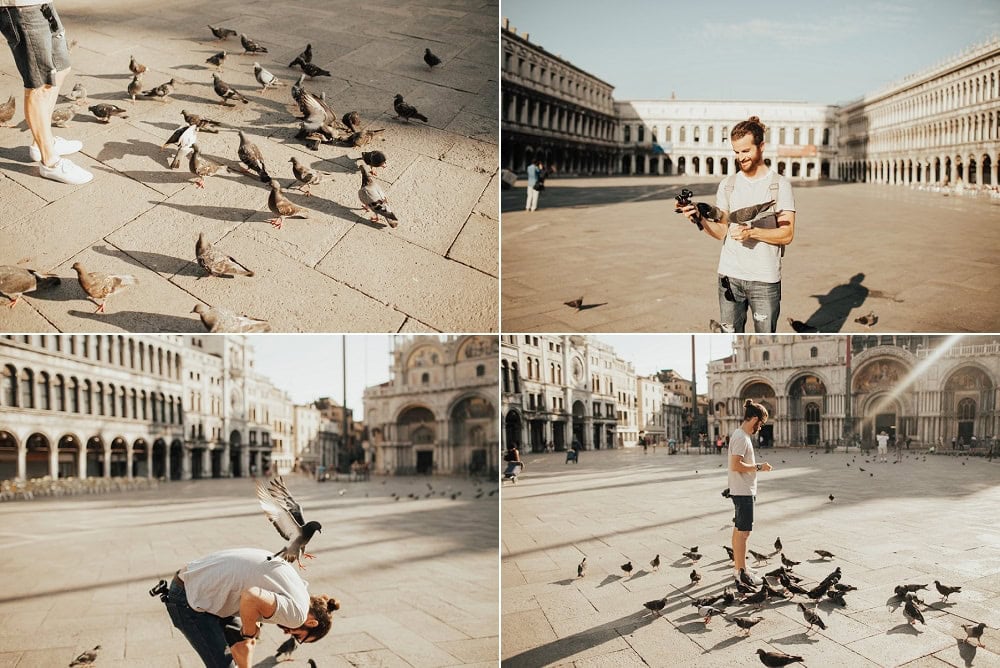 Side notes, Quick Tips about Venizia, Italy:
– no, we didn't take a gondola ride. it was rather pricey for us and when we thought about it more we didn't really enjoy the idea of riding through the canal with people looking at us.
– if you go to St Mark's Square for the pigeons, say no to the people pushing corn kernels in your hands. we realized too late that they were shoving it in our hands as pigeons instantly started to swarm us. afterwards they asked for money and even when we gave them some they wanted more. bring your own stale bread to feed the pigeons – which is actually what we had done and after the guys stopped bugging us we were free to feed and enjoy the pigeons on our own.
– there is a Christmas ornament store here. I repeat, a Christmas Store here in Venice open all year round. When we first happened upon it it wasn't open yet so you bet your bottom Euro that we noted the store hours and went back right when it opened to buy an ornament. It's literally the only thing we bought for ourselves in Italy.
You guys get sick of hearing about Italy? Don't worry we've got one more in the works with a video. Until then, ciao ciao.