Hipcamp Photographer
Sunset Hideaway and Bee Hive Trailer
A few years back while looking for a camp site we happened upon a website called Hipcamp. We had never heard of it before as it was still fairly new but it had listings for different sort of camp sites, not just the popular national park camp sites but some hidden gems that you'd never know of otherwise. Besides tent sites it also offered up camping in RVs, little cabins, teepees – some on completely private lands and others on farms or people's backyards. Whether you want to glamp or totally rough it and hike to your site or just get away for the weekend, there are so many unique listings. Basically it's like AirBnb but geared more towards campers.
We really enjoyed what the company was doing so we continued to keep tabs on them. When they put out that they were looking for field scout photographers to go visit the sites, camp overnight and take photos, it perfectly meshed two things we enjoy: taking photos and camping. So now whenever it fits with our schedule and there's a listing that needs to be scouted and photographed, we pack up the car and pup and go camping.
The last two we scouted we were able to make a little mini road trip out of it (it's been so long since we've been able to make a road trip! last one was to Texas, hoping we can do one soon). Make sure to check out the video at the end of the post too.
Sunset Hideaway Off Grid 1974 Avion Trailer
First stop was the Sunset Hideaway Off Grid 1974 Avion Trailer – you can read more about the site here. We can't say more good things about this one. This has been our favorite spot we've scouted and we seriously wished we could have stayed there for longer than one night…maybe like for like ever?
Camping isn't the same without our pup so we only look for camp sites that allow dogs. This site even had dogs of their own and they were so cute and friendly.
They had a cute little vegetable garden that they allowed you to pick veggies from and a chicken coop which they set out fresh laid eggs for you to eat. Joe and I have dreamed of buying a plot of land and growing our own veggies and having chickens roaming so this place just spoke to us.
Not only is there a trailer but they also built a sweet casita that you can stay in as well. Seriously we were ready to move in.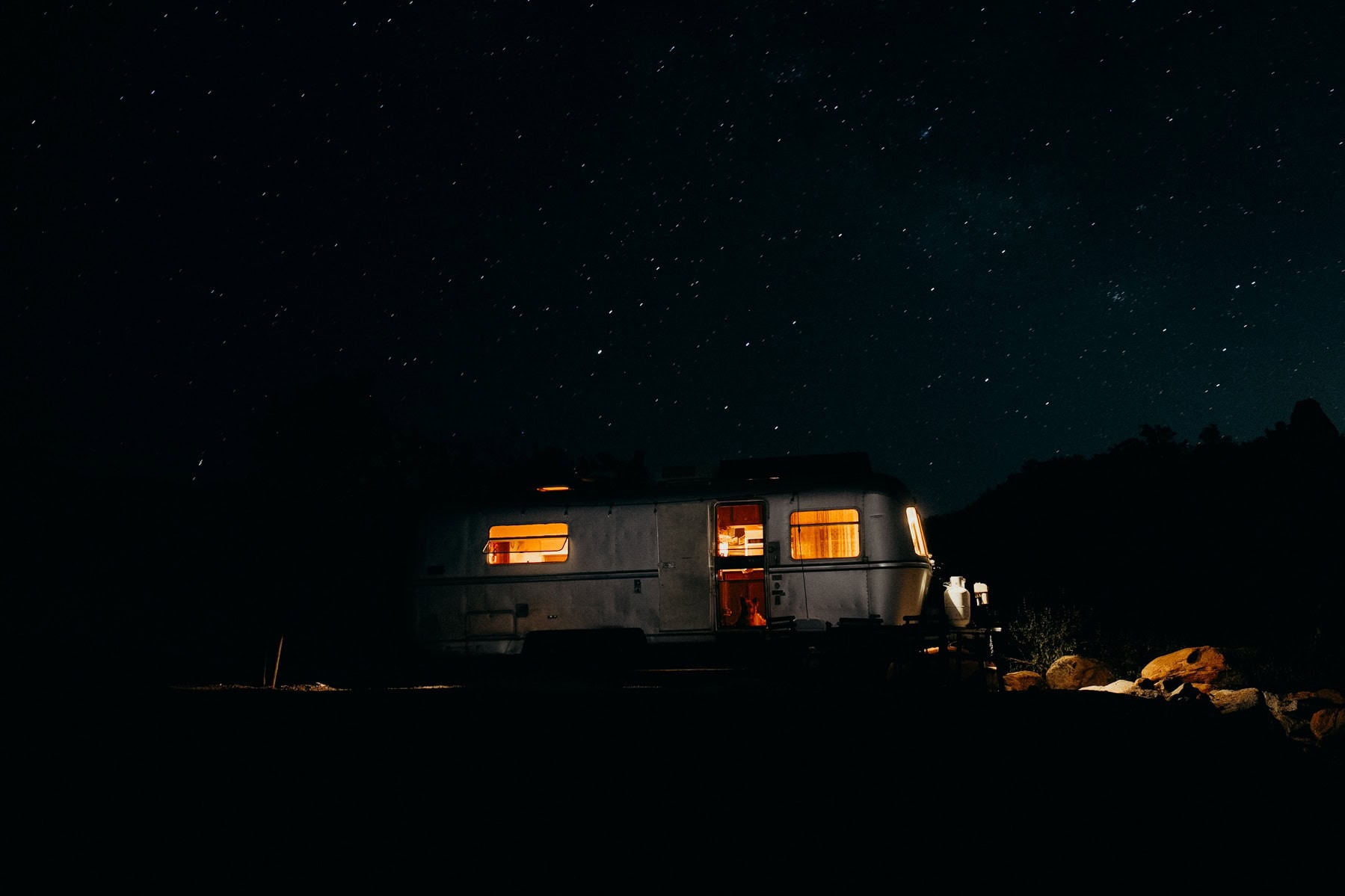 Could not ask for a more peaceful evening. Starry skies just get us.
With a working stove this was definitely more glamping than we like but sometimes it is nice to "camp" but not. The trailer is completely off grid, running fully on solar, so we were definitely a bit spoiled here.
Honestly we were pretty bummed to leave the first site but we had another to go to. So after a nice slow morning, making breakfast, taking a little hike, we packed back up and headed to Joshua Tree.
Bee Hive Trailer
Next stop was in Joshua Tree at the Bee Hive Trailer.
One of our favorite things about the desert is the sky show it always puts on. Every time we shoot in Joshua Tree the sunsets never disappoints.
If you guys are interested in finding some unique campsites we definitely recommend checking out Hipcamp — and no this isn't sponsored, who do you think we are we're not fancy like that haha, just showing support and sharing with you guys.